Programmatic
Hundreds of controls to manage your programmatic stack in realtime without the need for developers.
Unparalleled Value
AdGrid charges a low flat fee based on average yearly volume making it extremely cost efficent. Combined with cutting edge management tools through an easy to use dashboard, it allows adops to effortlessly increase impressions, add more ad partners, target your most viewable inventory and stay compliant. Rest assured you will be using the latest industry best practices with no development resources needed.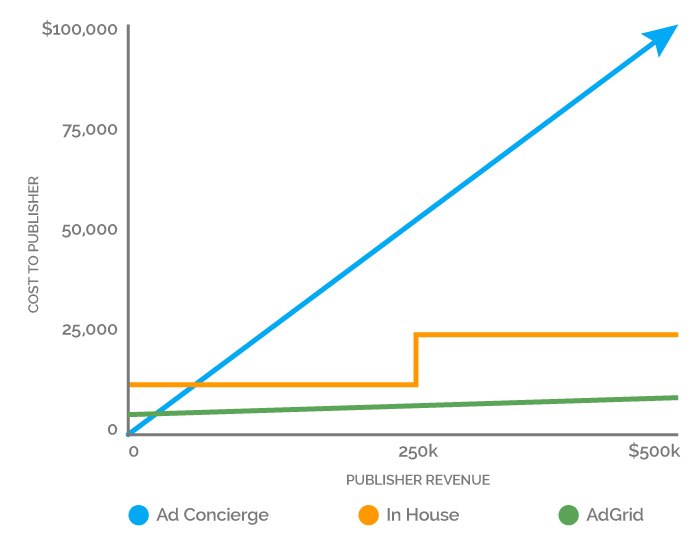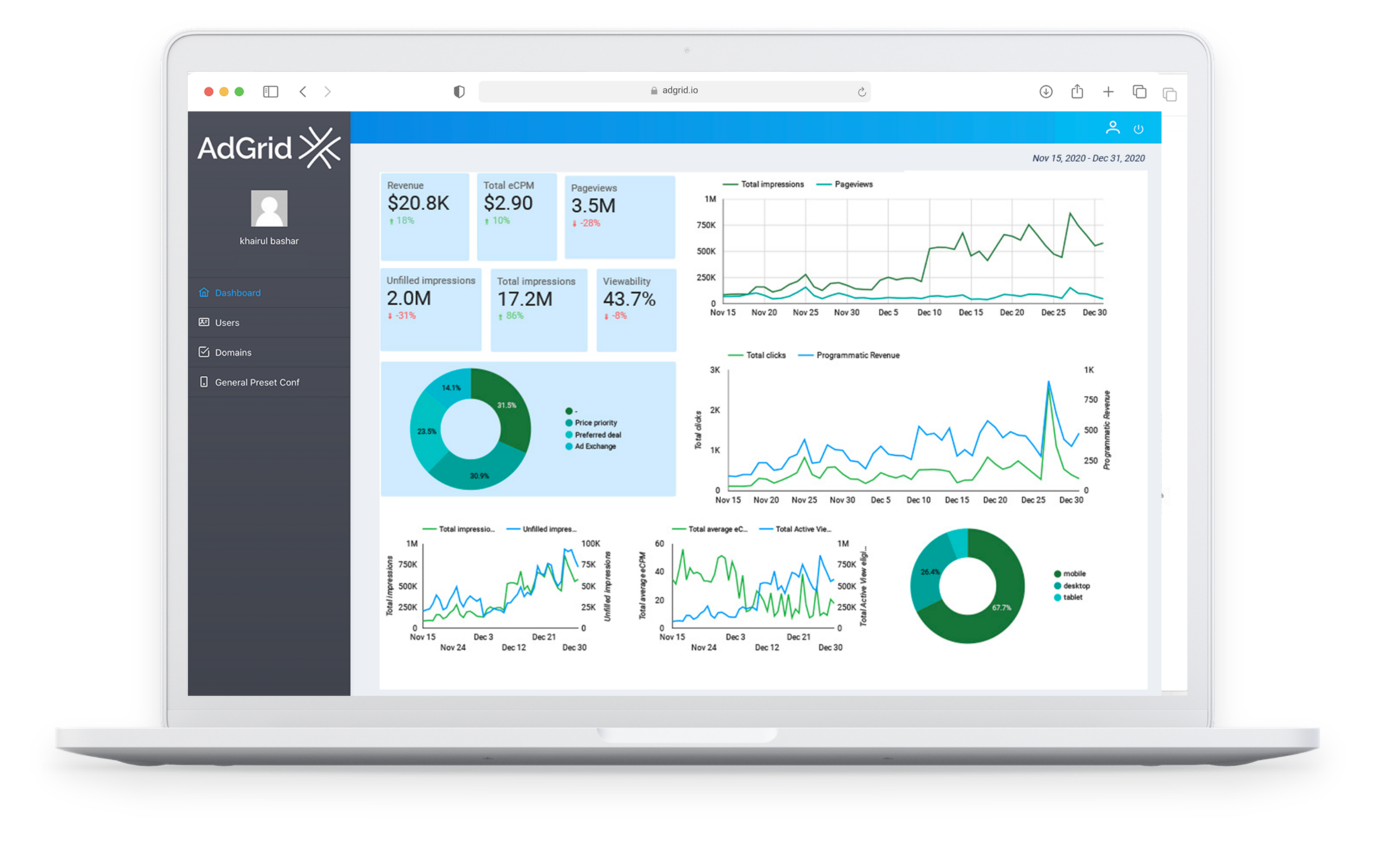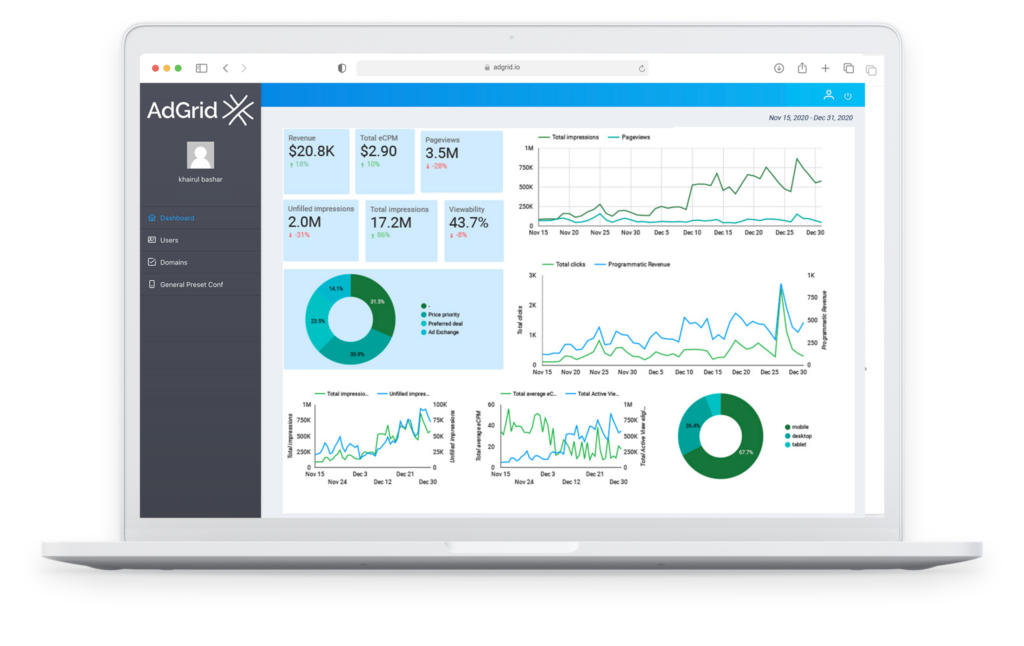 Proven Performance
"AdGrid has exceeded all our expectations. Implementation was quick and painless, which was a welcome surprise for our executive team. Resulting in an overall lift of 110% at a time when all sites are trending downwards, we are now racing to install AdGrid across all our properties."
JEREMY ZIMMERMAN
Global Head of Programmatic & Ad Operations
Motorsport Network
Publisher 1
+110%
REVENUE
-14% Page views
Publisher 2
+994%
REVENUE
+66% Page views
Publisher 3
+232%
REVENUE
-46% Page views
FEATURES
Enterprise Level Ad Controls
AdGrid can control one site or hundreds. If you manage a suite of sites with shared SSPs AdGrid allows you to make global changes or fine-tune very specific settings for each entity.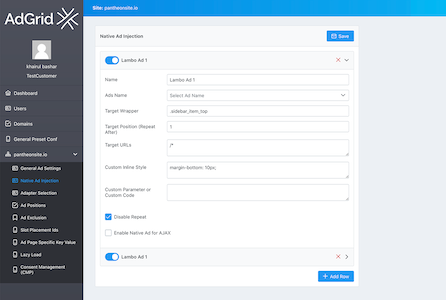 Dynamic native ad injection
One of the most powerful features is the ability to add new slots for any style, any location – in realtime
Realtime performance control
Even the simplest of settings can be controlled through the AdGrid dashboard with no code pushes.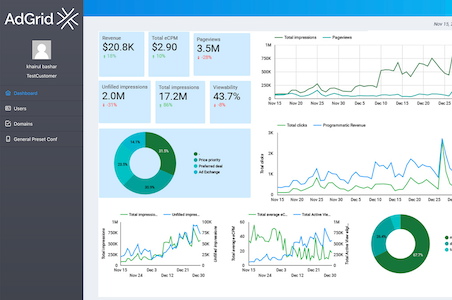 Detailed reporting
Integrated Google Analytics and DFP dashboard with partner bidding data for easy monitoring and adjustments.
Continuous Support
Your AdGrid subscription comes with more than just software. With AdGrid you join a community of ad experts ready to make the most out of our relationship.
With a dedicated Slack® channel, support portal and a tech team at the ready, our support team is a constant partner to ensure success.
Industry Leading Team
AdGrid is a group of people who have done this time and time again for companies like FederatedMedia, SheMedia, BlogHer, This Old House, Billboard.com and The Hollywood Reporter. We're creators, consultants and industry experts ready to get you to the next level.
SET UP
We'll configure and set up your site, provide training and adjust your bidding strategy.
CONTACTS
Need your own SSPs? We'll put in touch with the right people and guide you through the process.
CONSULTING
Weekly meetings with our ad experts for ongoing best in class performance.
Keep up to date
Sign up for our newsletter to receive product updates, tips and industry observations about once a month.